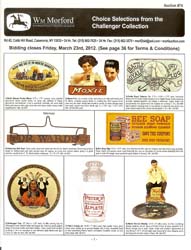 You can view and download PDFs of past auctions via the menu on this page.
Our professionally produced, fully illustrated printed color catalogs are available by subscription at a cost of only $20 postpaid for a full 12 months.
Prices realized reports are posted on our website – printed copies available by sending SASE.
Subscriptions can be ordered instantly via our secure credit card shopping cart located at https://wm-morford-antiques.myshopify.com/products/catalog-subscription or by mailing a check, money order or calling our office with your credit card information.
You can also elect to view upcoming catalogs online for free (go to Join our Mailing List to sign up for pre-sale notifications of our upcoming auctions and to view the online catalogs). You can also elect to view catalog online for free. You can contact us by phone, e-mail or write to us at:
Wm Morford
RD #2 Cobb Hill Road
Cazenovia, NY 13035
Telephone: (315) 662-7625
FAX: (315) 662-3570*
*Notice: We do not accept unsolicited advertising faxes!
E-mail: morf2bid@aol.com